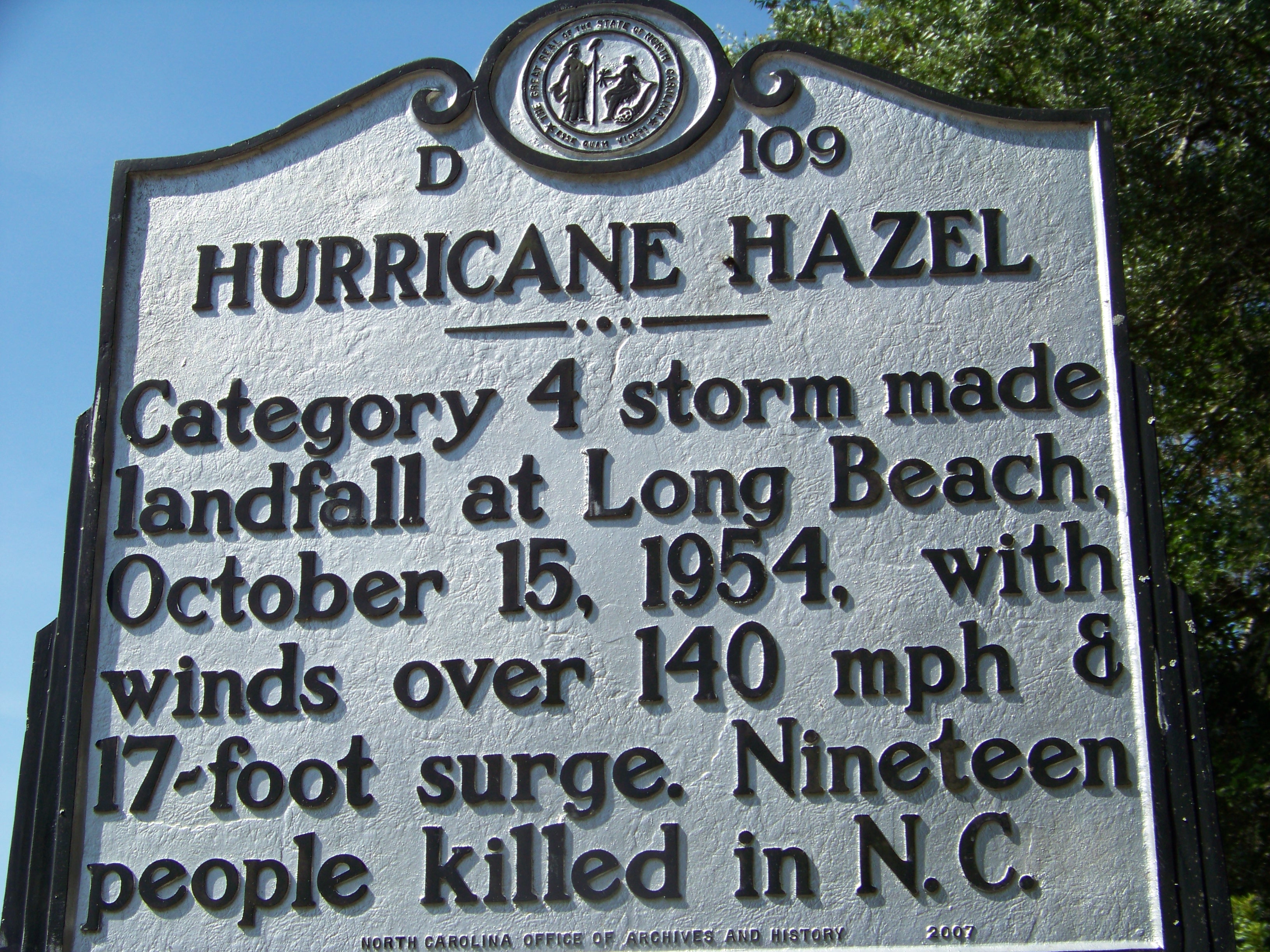 About Hazel~Built
Hazel~Built offers a different kind of home inspections service. Seeking to develop long-term consulting relationships with our clients, we help coastal home owners analyze such aspects as; evaluation of important maintenance and safety issues involving coastal home ownership, ocean hazard and flooding concerns related to beachfront homes & other special needs like: educating residents (new to our hurricane-prone area) about best practices for this dynamic environment.
Coastal Building Considerations
In October of 1954, the impact of powerful Hurricane Hazel set what is considered a "100-year" benchmark of potential coastal storm destruction for areas near Wilmington and Myrtle Beach.
Since many of the barrier islands had very few beach homes that were not destroyed, new types of coastal home building were developed.
| | |
| --- | --- |
| Tracking the Path of Hurricane Hazel (Credit NWS) | Hurricane Hazel Historical Marker |
More recently, after Hurricane Fran's local impact (1996), FEMA markedly revised their coastal construction guidelines; to address serious bad beach home building practices found on Topsail Island by post-storm assessment experts.
| | |
| --- | --- |
| Tracking the Path of Fran (Credit NWS) | |
While North Carolina residential building codes defer to and must comply with federal coastal home construction standards, the building codes themselves note their guidelines are minimum standards; which, in very many cases are below the best practices needed for coastal locations.
| | | |
| --- | --- | --- |
| | 102.1 Minimum standards. The purpose of this code is to provide minimum standards for the protection of life, limb, health, property, environment and for safety and welfare of the consumer, general public, and the owners and occupants of residential buildings regulated by this code. (Page 1) | |
| | North Carolina State Building Code, Volume VII – Residential (General Construction, Mechanical, Plumbing & Energy) | |
While the dynamic hurricane-prone environment of coastal North and South Carolina often gets considerable media coverage during our annual tropical cyclone season, the most knowledgeable builders and home inspectors understand chronic weather related environmental factors can often have as much or more damaging effects on coastal homes than a majority of tropical storms. For example, compared to inland homes, the weathering of beach homes is accelerated and usually in relationship with how close the beach home is in proximity to tidal waters. Our area's ocean salt spray is highly corrosive to metal and often compromises crucial fasteners at an astonishing rate. These metal fasteners are ordinarily a primary means of helping to hold coastal homes together. Moreover, the heightened coastal moisture factors (along with our significantly high humidity levels) often cause significant (and very costly) damage to a coastal home's structural framing. Adding to such very important coastal considerations, a substantial percentage of coastal homes (including those built on the NC beaches) are constructed to bare minimum standards of the state building code. Even near the oceanfront, many of these homes have been/are being put together by inland builders (unfamiliar with the best practices of coastal construction) or others who do not implement coastal home building practices that would more likely provide a durable home.
| | |
| --- | --- |
| Minimum Standard Beach Home | Minimum Standard Beach Home (Close-Up) |
Once exterior and interior wall coverings are applied, many defects become visually hidden. When a beach home is constructed to minimum standards or below best practices, it is not a matter of IF structural problems will occur; but, HOW SOON and to what extent damage will be.
| | |
| --- | --- |
| Resultant Rot | Resultant Rot (Close-up) |